Ramboll knows e-learning
Do you wish to increase knowledge and commitment within your organization, or do you need to obtain specific information, adapted to your business?
Are you looking for a resource-efficient, flexible, and user-friendly alternative to teacher-led training?
At Ramboll, we offer both general e-learnings and can help you create customized, company-specific online training. According to your graphic profile and your logo, we can produce e-learning with content designed based on your unique needs and wishes.
Benefits of e-learning
Education and training via the web is a flexible and resource-efficient option or complement to traditional classroom training. Its particularly suitable for companies and organizations with complex geography, with employees who work shifts or where participants have difficulty attending training during business hours.
Not only does e-learning reduces the need for traveling and course premises. E-learning has many more advantages compared to traditional classroom training.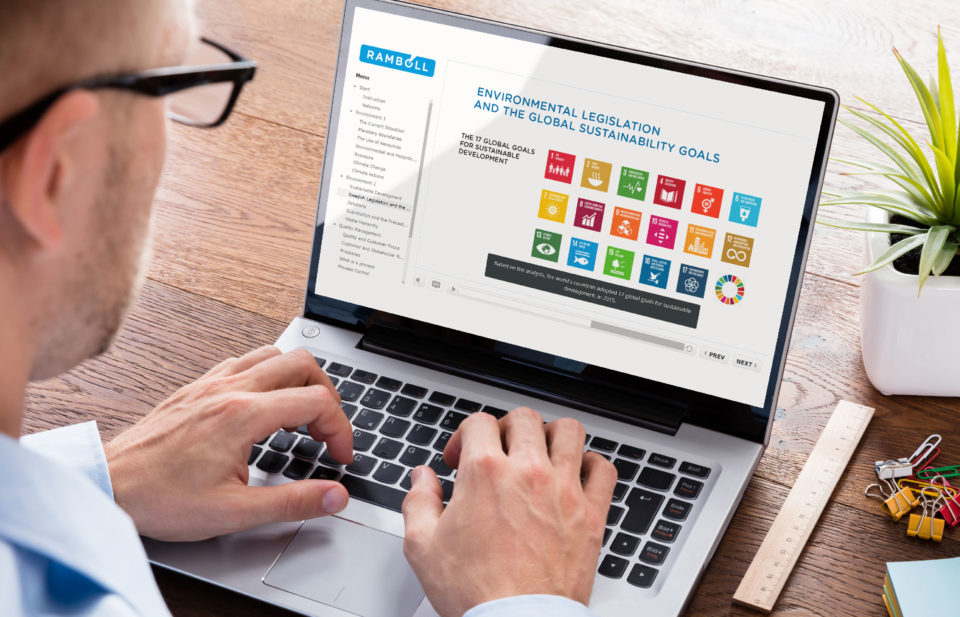 Available 24-7
E-learning is available 24-7. Using E-learning you can give the course participants the freedom to learn at their own convenience, when and where it suits them best.
Flexible
Course participants can pause the training at any time and continue where they left off the next time they log into the learning platform. They can also complete the training at their own pace.
Scalable
E-learning is easily scalable. E-Learning enables you to quickly create and communicate new trainings and courses to innumerable number of participants.
Many participants
Using e-learning, you can also effectively convey consistent information to a large number of people at the same time.
Effective
By combining sound and image, film, animations and images, e-learning increase knowledge retention. Combining traditional classroom training and e-learning in so called blended learning you can increase knowledge retention even further.
Contact us