E-learnings availiable in English
Great news! We are thrilled to announce that we now offer e-learning courses in English that you can book today! Our courses cover two important topics for all companies: basic environmental training and an introduction to sustainability. Both of these courses are delivered entirely online, making them convenient and accessible for anyone with an internet connection. They are also self-paced, so participants can complete the training at their own pace, according to their own schedule.
Both trainings can be accompanied by a separate free of charge add-on module focusing on environmental management and ISO 14001.
Don't miss out on this opportunity to enhance your knowledge and skills in these important areas.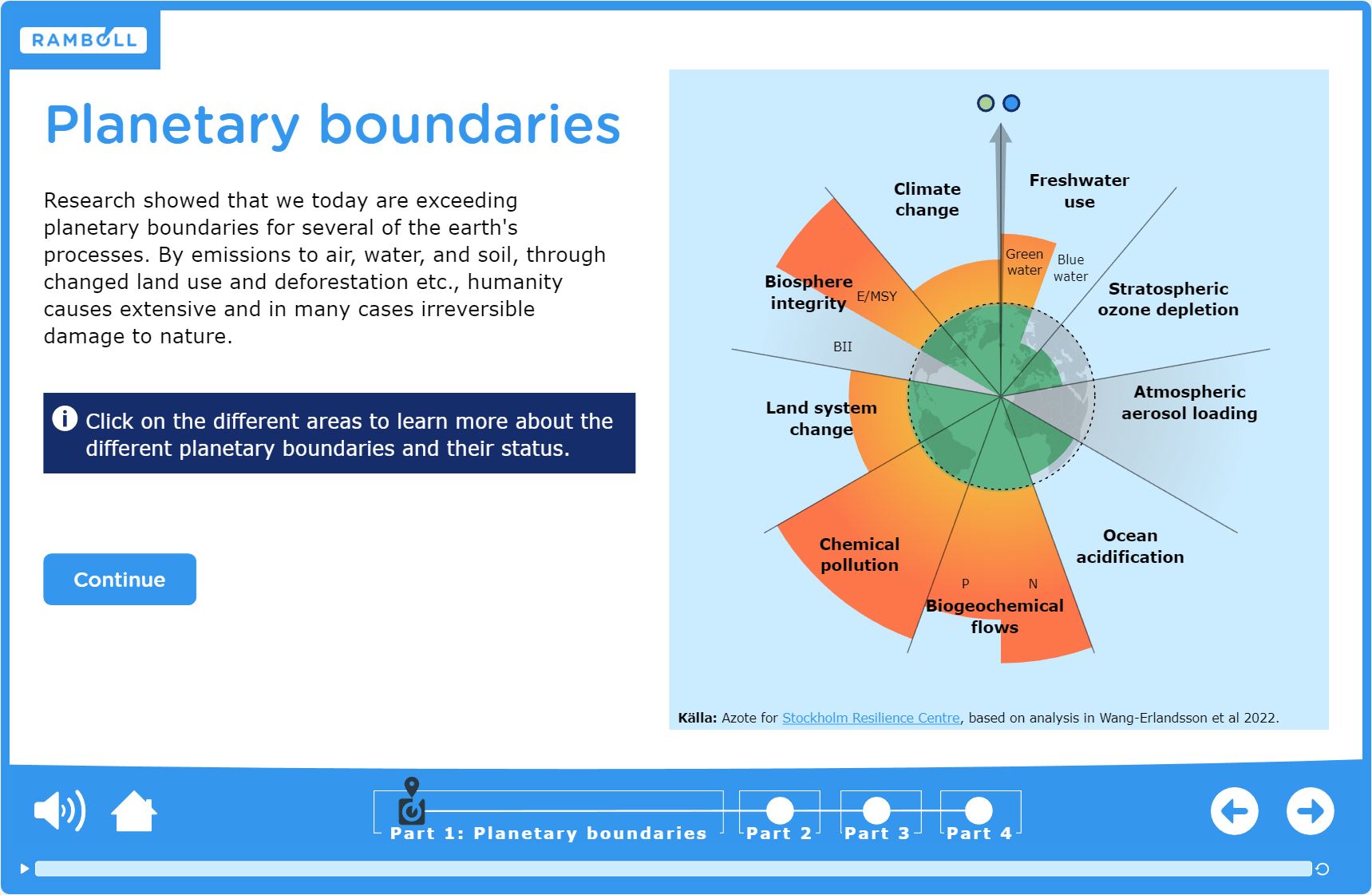 Basic environmental training
Looking for an easy and accessible way to learn about basic environmental topics? Our e-learning Basic Environmental Training is designed to provide you with a solid foundation in important sustainability concepts, such as climate change and its effects, resource management and circular economy, and the spread of environmental toxins and chemicals.
You'll also learn about sustainable development, relevant sustainability initiatives, and the global goals outlined in Agenda 2030. With this e-learning, you'll gain a better understanding of environmental challenges and how to make a positive impact.
Time required: 40 min (excl. questions)
Extra module: 10 min
Introduction to sustainability
Rambolls e-learning Introduction to sustainability covers all three dimensions of sustainable development, with an extra focus on ecological sustainability including global and local environmental issues. The course material includes current sustainability initiatives, such as Agenda 2030 and the Paris Agreement, and describes solutions suitable for both companies and private individuals. The aim of the training is not only to increase knowledge but also to create commitment and curiosity for sustainability issues!
Time required: 45 min (excl. questions)
Extra module: 10 min