Theme of this update is Assessments and Findings. Work to improve Assessments continues.
Process for creating findings has been made easier
Assessment report has been simplified and enhanced, for example finding fields which are shown can now be selected
For Findings View, table view has been improved
If you have any question or feedback regarding the new version, please contact us at  helpdesk@ehscompass.ramboll.com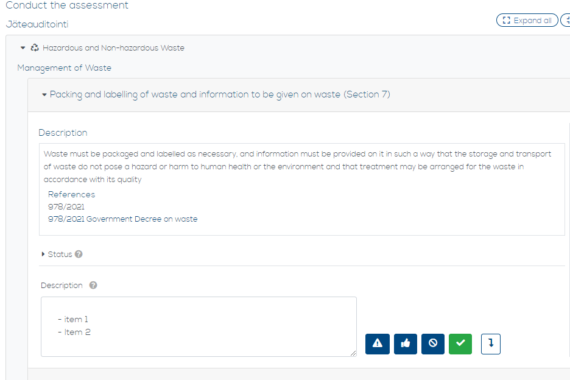 Assessment changes
Two small but helpful changes were made for this release.
Assessor may now write notes before selecting the Finding type, and these notes will be copied to description in the created Finding.
Assessment List Item description is visible on the Finding page creation, to make it easier to edit description and to ensure that all points in the list item can be taken into consideration.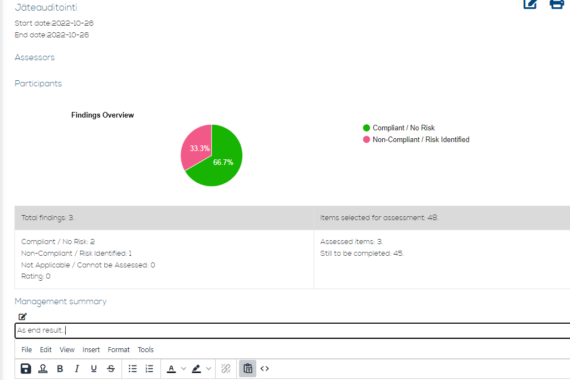 Improved Assessment Report
Assessment report has been modified to be more usable and bit simpler looking.
At the beginning there is a Overview of the findings where it is possible to easily see how many findings and assessed items there are
Widgets have been moved to the very end of the report and a few have been removed. Risk matrix widgets show both original and residual risk levels.

widgets can be moved and removed (remember to save edits)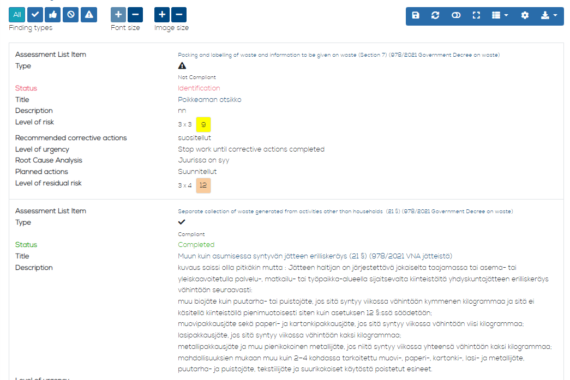 Findings section of Assessment report
List of findings can be edited
It is possible to:
Select finding types to be displayed in report
Change font size to smaller
Change attachment image size
Save changed settings for next view of the Assessment or for creation of PDF
Change the view type from list of rows to list of 'cards'
Select the Finding fields to be displayed in table
Export the information to e.g. excel
Sort the findings by e.g. Type
Remember to save settings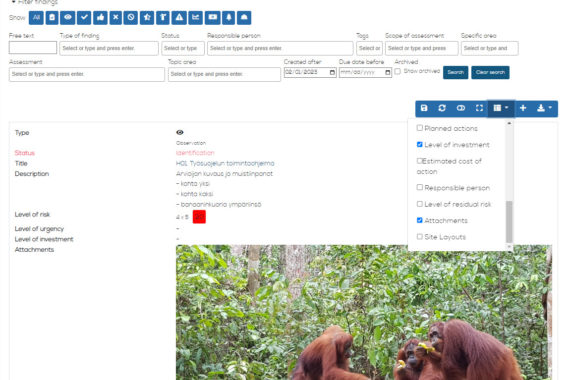 Changes to Findings page - table view
The changes to Findings view match those of Assessment report finding table: Table has new fields from which to select information from and it is possible to save (into browser memory) the used settings for next view.
These changes make it easier to e.g. create end-of-the-month Findings report with pictures by printing it out.
Other changes
There is a new Field in Requirements: Enforcement authority. It is not visible yet, but purpose is to make the way of displaying enforcement authority in similar in all requirements.
Bug fixes
Contact us