Release notes are no longer available via digitaledu news, but only via link shared in EHS Compass.
We have updated the EHS Compass service to a new version.
Monitoring Requirement changes is improved
Management Reports, Compliance follow-up report has been updated to support periodic check of requirement handling by showing unackowledged requirements.
In Requirements view, it is possible to search for requirements which have not been acknowledged after a set date
Sub-account requirement state can be viewed in Dashboard per account
Other changes:
Assessment PDF:s are no longer deleted when assessment is deleted
Account settings has been updated with new fields for better communication both ways.
If you have any question or feedback regarding the new version, please contact us at  helpdesk@ehscompass.ramboll.com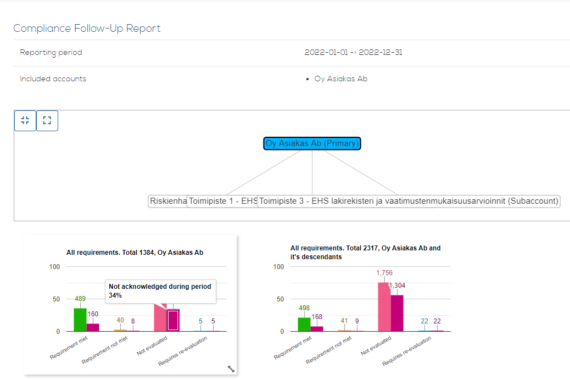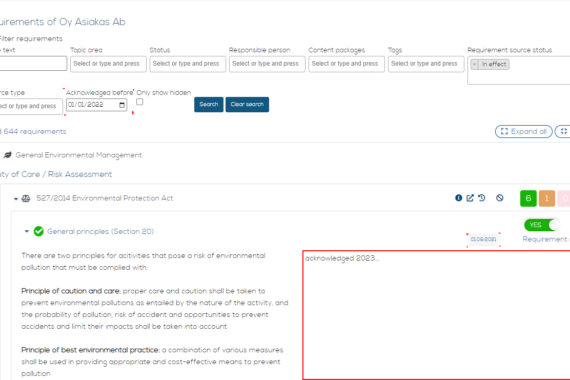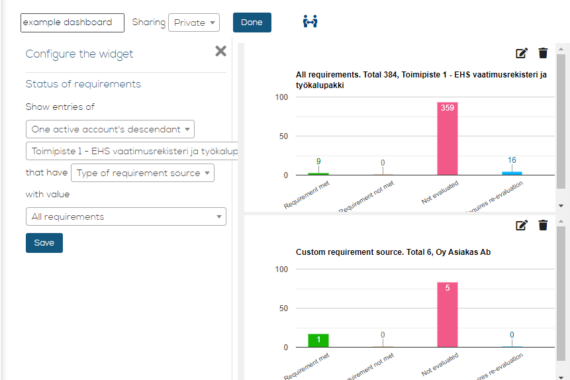 Requirement Monitoring changes
Requirement monitoring has been improved to help in periodic, for example yearly, compliance evaluation.
In the management report it is possible to see with a glance how many requirements have not been touched during the period of interest. To enable this feature, just enter start and end dates when generating compliance follow-up report.
In the requirements view it is possible to filter the requirements which have not been acknowledged since a date of interest. Preferred way to acknowledge requirement is to add a comment, e.g. "Requirement checked 2023". Other ways to acknowledge are changing the requirement state ( requirement met – requirement not met and back) or creating a task from the requirement.
requirement status widget has been updated to include single sub-account, with visibility depending on account selected and users rights to see dashboard.
Other changes
Assessment PDF files are not removed anymore when assessment is deleted
Account settings has been updated with new fields for better communication both ways.

If customer has Ramboll consultant assigned, Compass will show his/her name and email. So information on responsible persons now goes both ways.
Billing address has been added to account information. If it is changed, support will be notified with email.

Training Register reminder emails have been edited slightly, to better inform persons who do not have EHS Compass account
language selection moved in after personal data in own profile
System backend has been updated to make internationalization steps easier for administrators/content providers at Ramboll
bug fixes
Contact us