New features and changes
The biggest change this month is the new Frontpage, which is a hub for links to all relevant features of the EHS Compass app. Other prominent features include a rearranged main menu and the merge of regulatory and requirement update reports.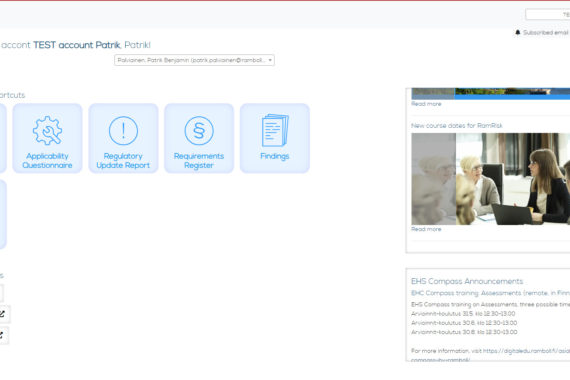 The new Frontpage
The new Frontpage will be the first page you will land on after logging in. On the Frontpage, you will see shortcuts that take you to different parts of the application. The gray main menu is still located on the left side, and to access the 'old frontpage', the Dashboards page, simply click on the first blue shortcut on the Frontpage.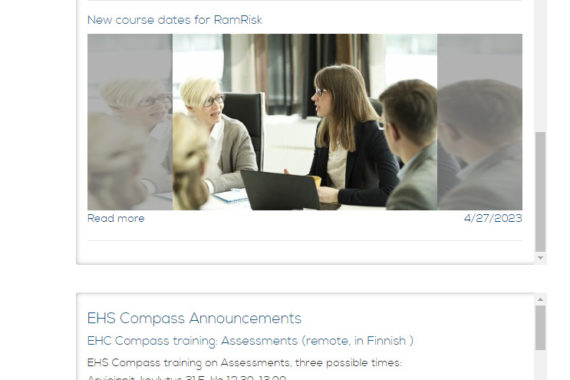 More about the new Frontpage
In the right corner of the Frontpage, you will find links to notification and language settings, the News widget, and the Announcements widget. Account administrators will be able to configure the Frontpage widgets for their organization account by clicking the edit pencil icon in the upper right corner.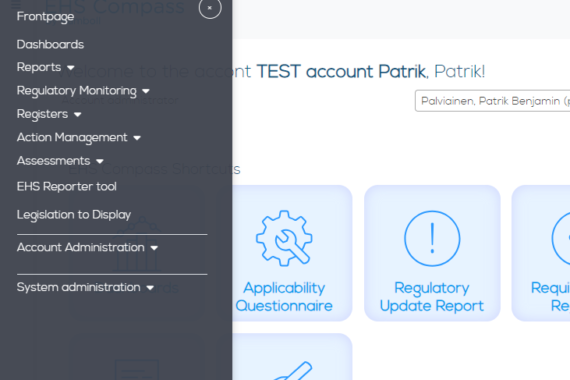 The main menu has been partially rearranged and some names have been modified.
"Regulatory Updates report" and "Regulation Changes Report" are now under "Regulatory Monitoring"
"Monitoring" is now "Registers", and it also now includes the GDPR Register
"Assessments" is now "Scheduled Assessments"
"Legislation to Display" is now its own top level item
Also the top left EHS Compass logo is now clickable and it will take you back to the Frontpage from any other page.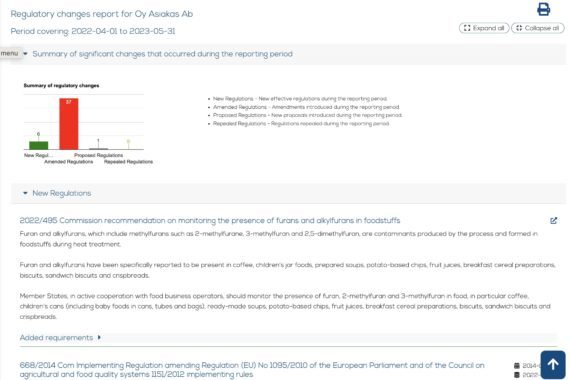 The merge of Regulatory Updates Report and Requirement Updates Report
The Requirement Update Report and Regulation Update Report have been combined into a single report. In appearance, the new combined report is similar to the previous Regulation Change Report, but requirement changes have been grouped under the regulations from which they originated.
The aim of this change is to help the tracking of requirements stemming from legal changes. Now it's easier to see which regulation changed and which requirements it affected.
The report is possible to filter regulations based on responsible people, content packages, and subject areas, as well as time period.
Contact us